We're glad you're interested in learning more about us! See the links for staff info, Board of Directors info, and facility information. Are you new here? Click here to get answers to frequently asked questions!
Our monthly newsletter is also available here.
HISTORY OF GOOD SHEPHERD
"My sheep hear my voice…"
In 1987, a six acre parcel of land along 162nd Avenue in east Vancouver was purchased by the Lutheran Church Extension Fund as a site for a church sometime in the future. At the time, there were several buildings on the property, including a house, barn, and some small sheds. Because a neighbor was using the land to pasture his sheep, the name Good Shepherd Lutheran Mission was proposed if and when a church was ever started.
Rev. Robert Weber, recently retired pastor of St John Lutheran Church, began laying the groundwork in 1992. His initial efforts resulted in a first worship service on December 6, 1992. The fledgling congregation met Sundays at Pacific Junior High School. Fifteen months later, Rev. Dell Schomburg of Salem, Oregon, was called by the Northwest District to serve as "Missionary-at-large to East Vancouver through Good Shepherd Lutheran Mission." Later that same year, on December 11, 63 members signed a charter pledging to "…reach as many of the unchurched people of East Clark County as possible with the Good News of Jesus Christ." In 1995, worship services were moved to Pioneer Elementary School.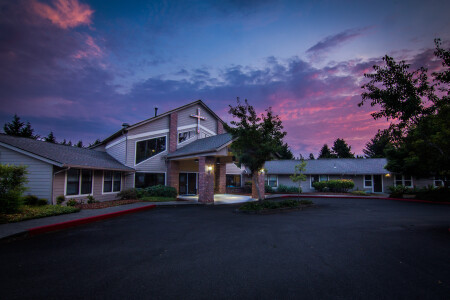 In November, 1996, Good Shepherd made the transition from mission to church, calling as its first pastor, former military chaplain Ted Moeller, of Chilliwack, BC. Since then, the church has experienced steady growth; evidenced in the construction of its own facility, a 6000 sq ft multi-purpose building dedicated on March 19, 2000. This was followed by a 2200 sq ft extension (entirely funded and built on own) providing 5 new classrooms. In 2008, Sara Eustice-Brown was called as Director of Christian Education and Family Ministries and a Preschool was added in the fall of the same year, under the direction of Krista Moore. Currently, we have a membership of 480 people.