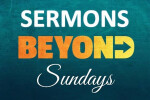 As he went along, he saw a man blind from birth. His disciples asked him, "Rabbi, who sinned, this man or his parents, that he was born blind?" "Neither this man nor his parents sinned," said Jesus, "but this happened so that the works of God might be displayed in him.." John 9: 1- 3.
Two ways to see things in this situation. Either the man's affliction is a curse brought on him because of his or his parents bad behavior, or it's an opportunity for God to show His incredible power and love in this man's life. How you look at this situation in the reading has a lot to do with how you view God, and humans.
If you see the man's blindness as an affliction given to him as some sort of cosmic punishment based on his behavior, then God is an eye for eye kind of guy. He gives people what they deserve, is keeping track of all our wrongs and our rights, and only gives good to those who meet His standard. Doesn't sound very loving. Now, if you like this idea of life being fair and that God doles out difficult circumstances based on people's levels of unholiness, it might be beneficial to ask yourself how you're doing in the old "keeping God's standards" department. If we're honest, we might realize that a whole bunch of what we have, we didn't earn, nor deserve. Our gifts and blessings tell us about who God is. They are not indicators that we are good or have made Him happy with us somehow.
If you see this man's blindness as an opportunity for God to show up, then you see that God cares about us. Not just our spiritual needs, but physical ones too. You see that God is bigger than our struggles, and that He is actively working in people's lives. I want to believe that the hard parts of my life will be places where others get a glimpse of who my Father is. Our struggles and trials tell us about who God is. They are not indicators that He's mad at us. It's like no matter what we're going through, it's really not about us, but about us seeing Him and His love for us.
We are living in a weird time right now. Crisis or opportunity? That's how Pastor Ted phrased it in his sermon, and how we look at this situation can tell us a lot about ourselves and our perspectives on God. Do we see Him like the disciples in the reading saw Him, that this pandemic is His way of getting our attention, that it's "punishment" for all the ways that we've turned away from Him? Or is this situation simply an opportunity for us and others to get a glimpse of how God works in our lives?
I've seen people buy toilet paper for co-workers and give it to them instead of keeping it. I know one woman who bought a pie from a small local business and tipped the person $100 because they want to encourage them during this scary economic time. I've seen Facebook page groups start to help neighbors, and sew masks for hospital workers, and look at everything Evergreen School District is doing to help parents and kids…that the works of God might be displayed in our lives. I've seen articles about people decorating their windows, re-hanging their Christmas lights, and painting rocks to hide outside so kids can find them along their walks. Let's also not forget all the families who are trying to work together right now to keep sane with kids at home. Students helping parents keep the house clean, and parents trying to teach their kids—anywhere that people are taking care of others and showing love—that's where the work of God is.
Pastor Ted mentioned in his sermon that the church is more than what we do on a Sunday morning. Sunday morning is where we hear about faith, but everyday life is where we live it. Many of us have gone to church for years, we've heard the sermons, and read the Bible stories, and now more than ever we have an opportunity to take all the information and knowledge and do something with it, so that the works of God might be displayed. As this week comes to a close, I encourage you reflect on and continue to look for the work of God in your own life and in the world.
1. Take some time to evaluate your behavior and thoughts so far during this pandemic. What has this situation highlighted about your personality, your fears, and your thoughts on God?
2. Where have you seen the work of God displayed during this? Make a list and post it on your fridge. Add to it each time you see something. Really, go make the list, don't just think about it in your head. The visual reminder will help encourage you. I'm going to go make my list right now!